September 2016
New state-of-the-art Superyacht repair/refit center in the Caribbean
After having undergone a massive 12 Million Euros restructuring, Carenantilles Shipyard is the largest full service marine refit center in the Southern Caribbean. It is located in the south part of Martinique, in the gorgeous bay of Le Marin, a deep water, well protected harbor and a natural hurricane hole.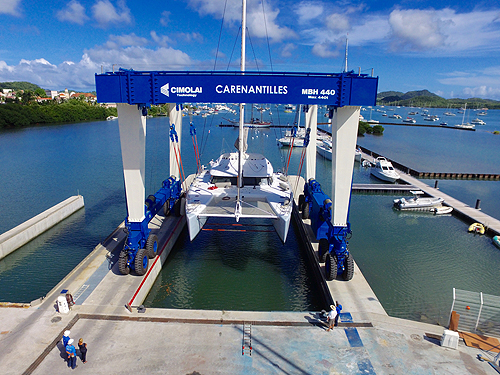 Carenantilles Shipyard, located in the gorgeous bay of Le Marin, Martinique
Equipped with brand new 440-Ton & 80-Ton Travelift, Carenantilles is able to undertake any project from a "quick fix" to a complete refit and repair on yachts up to 164ft (50m) long, 43ft (13m) wide and max draft 14ft (4 m).
The yard spreads on a 6-acres recently fully coated facility, along with a 660 ft floating work dock and offers power up to 125 amp, single and triple phase.
The whole facility is equipped with cutting edge recovery and water treatment systems. Carenantilles has a team of highly qualified technicians and also works with the best marine subcontractors from the USA and Europe.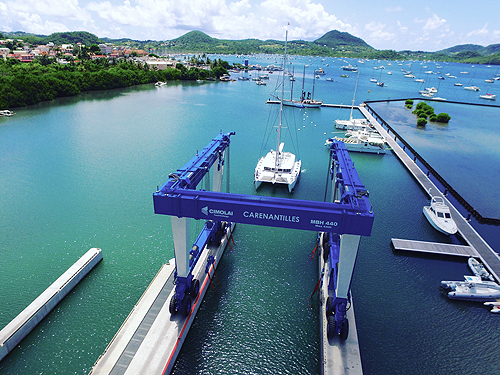 Carenantilles Shipyard, equipped with brand new 440-Ton & 80-Ton Travelifts
Services provided onsite include: custom fabrication and welding; carpentry; mechanical/engine work; propeller (shaft) repair; electricity; electronics; composite work; painting; hydroblasting, canvas shop and sail loft.
The yard is equipped with video surveillance and has a 24/7-security team. There is also a well-stocked chandlery onsite as well as a restaurant and bar. A full size grocery store is within walking distance.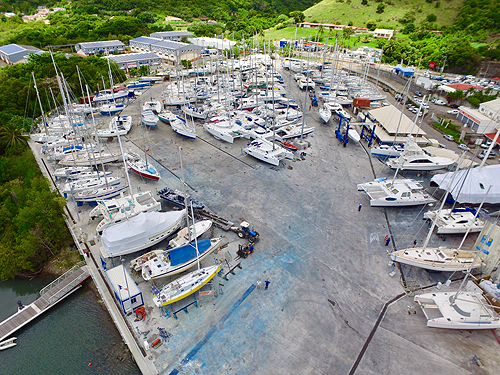 Carenantilles Shipyard, on 6-acres of recently fully coated facility.
Carenantilles is a family-run business, managed by father and son Jean Louis and Arthur de Lucy. Their welcoming and dedicated team provides attentive and personable services to their guests.
The charming town of Le Marin, with restaurants, bars and shops are an easy dinghy ride or short drive away, as is the modern, first class Marina du Marin.
Yacht Insider's Guide Newsletter